Modular Machines

Why Building Machines Modular?
The core idea of modularity in mechanical engineering is to divide complex machines into modules so that they can be individually assembled with an increasing number of identical parts. The combination of these modules covers the variance of machine types. Thanks to the economies of scale that this achieves, modular machines can be manufactured faster and more cost-effectively. In addition, they can be put into operation more quickly and expanded with greater flexibility.
Standardized interfaces are required to ensure the units can be combined easily and quickly. These include mechanical interfaces, but also those needed for power transmission, communication and, if necessary, compressed air. Modularity is not a characteristic that can be defined with a categorical yes or no. Instead, it ranges from low to absolute modularity.
Decentralized automation promotes modularization
Consistent modularization is not possible with point-to-point wiring in the central control cabinet. These central structures make it difficult to replace a module or expand a machine. Machine modules require autonomous structures. These can be implemented in small on-site control boxes on the module with IP20 components.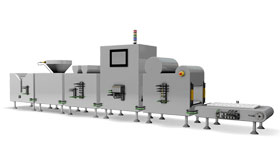 IP67 decentralized I/O modules facilitate interconnectivity and minimize wiring costs
However, wiring and installation are usually more complex than for components with IP67 protection class, which can be mounted directly on the machine without any additional safeguards. However, if certain components are not IP67-rated or if special requirements apply in relation to hygienic design, food conformity or chemical resistance, IP20 solutions in the protective housing are often essential.
IP67 automation components facilitate the interconnectivity of modules. Decentralized I/O components for mounting directly in the field allow signals to be collected directly at the point of generation on the module and coupled from module to module via an Ethernet connection – and all without a control cabinet. This reduces installation costs and shortens commissioning times at the end customer's premises.
IP67 spanners translate between Ethernet protocols
Machines and modules with different Ethernet protocols can be connected directly in the field with minimal effort using "spanners". Commissioning and interconnectivity are made easy and efficient by using conventional communication standards. This is particularly true in modular mechanical engineering.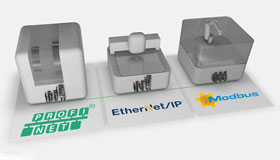 Internationalization simplified: Spanners translate between Ethernet protocols
Decentralized safety concepts
Applications that require secure automation can also be planned and implemented in a modular design strategy. With the same power and data supply concept, any safety signal from sensors or emergency stop switches can be collected easily and efficiently.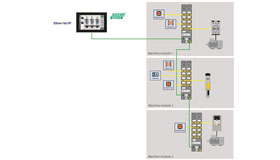 The safety modules control safety functions for each module while the HMI/PLC controls the standard application
Safety functions can also be controlled in a decentralized manner by IP67 safety controllers directly on the modules. This prevents long cycle times for central safety controls, which ultimately enables reduced safety distances on the machine. Further advantages of decentralized safety solutions can be found on our technology page on machine safety.
Video: How modular machines enable more flexibility
RFID Solutions: Seamless Identification in Production and Intralogistics
Modularization of control solutions
Consistent modularization also requires different control functions to be relocated to the machine module. These functions can be performed either from I/O systems with integrated logic controllers or from actual compact PLCs. Both product groups—I/O modules and controllers—can be designed in IP20 in control boxes or as IP67 versions for mounting directly in the field. In this case, the IP67 version without a control cabinet offers clear advantages in terms of wiring and flexibility. The relocated safety logic in the I/O module can offer additional benefits, such as the rapid execution of safety functions or an overall more cost-effective safety architecture, since no central safety control or F-CPU is required.
The on-site controllers communicate with higher-level controllers or HMIs for control, documentation or visualization purposes. The selection of the appropriate control solution depends on the type and dimensions of the machine. This means oversized control solutions can be avoided. The work for the user remains minimal, while the efficiency of the machine increases. Since the on-site logic module pre-processes the data, only relevant process information needs to be transferred to higher-level controllers.
Relocating Intelligence to the Field Level
The relocation of intelligence to the field must be mapped in the engineering department on the software side. The machine modules process the inputs of adjacent modules as an autonomous system and determine their actions on this basis. Depending on the complexity of a module, this can be achieved with I/O components with logical functions or by field PLCs. Only the information required for the adjacent module is then transferred at the interface between two machine modules.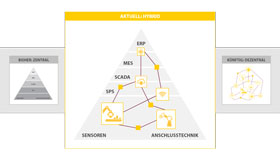 Decentralized intelligence breaks down the rigid structures of the conventional automation pyramid
Relocating software features can offer many benefits:
Relieves the load on the main communication link
Relieves the load on the main control – and can even fully replace it
Module tests before commissioning and linking
Third-party module integration is facilitated by the fact that the central control can remain unchanged
Simple plant expansion
The more consistently machines are modularized and intelligence is decentralized, the more the rigid structure of the automation pyramid begins to be destabilized. The hierarchies becomes more transparent, particularly at the sensor/actuator and I/O and control levels.